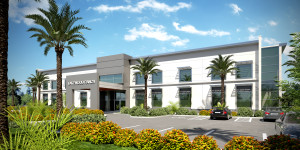 CNK Realty is pleased to announce it has been selected as the exclusive representative for HealthPark at Lakewood Ranch. This will be one of the first Class A medical office buildings constructed in Lakewood Ranch since the development of the Lakewood Ranch Hospital. The HealthPark at Lakewood Ranch will be a Class A, 2-story medical office building located in the heart of Lakewood Ranch and an integral part of the C.O.R.E. at Lakewood Ranch.
The Collaboration Opportunities for Research and Exploration is designed to attract scientific, research and educational institutions to a campus environment encompassing over 300 acres. In addition to the healthcare, research, life sciences and technology components, C.O.R.E. will incorporate retail, residential and hospitality developments into the overall design.
HealthPark at Lakewood Ranch is anticipated to be a 42,000 square foot medical office building on 4.5 acres with the ability to expand as needed. It will incorporate a multispecialty surgery center on the first floor and discussions are finalizing with several other large medical practices. There is still room to accommodate large and small individual or group practices looking to be part of a new centralized medical building in the heart of one of the top 5 fastest growing master planned communities in the nation. Additionally, ownership opportunities are available in the surgery center for interested parties. The building will be constructed to a shell condition with common areas completed to first class levels. The developer will be offering a generous tenant improvement allowance towards the interior finishes of each tenant's design and construction.
The developer of the project is Optimal Outcomes which is headquartered locally in St Petersburg. Optimal is a strategic partner who identifies facility needs with health systems to develop community and campus-based solutions that improve operational efficiencies, provider outcomes and patient satisfaction. They have successfully developed over 1 Million square feet of medical office space throughout Florida and do so with the mindset of helping the physicians improve quality and efficiency.
CNK Realty is the areas only commercial real estate brokerage firm which exclusively works within the healthcare sector of commercial real estate. The focus of CNK is the professional representation of physicians, medical groups, hospitals and medical office buildings in locating medical office space for lease or purchase.
For additional leasing information, contact Ken Hughes of CNK Realty at (941) 741-9600 or Khughes@CNKRealty.com
To view the property brochure, click
HealthPark at Lakewood Ranch Brochure