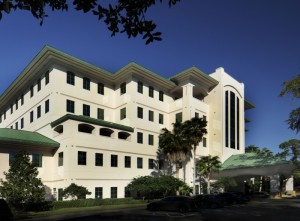 CNK Realty is pleased to announce the sale of the Sarasota Medical Centre, located on the campus of Sarasota Doctors Hospital. Sarasota Medical Centre is a Class A medical office building built in 1995 and is located at 5741 Bee Ridge Road. The property was owned by HR of Sarasota, Ltd and sold to the adjoining Sarasota Doctors Hospital.
The MOB is approximately 120,000 square feet and is comprised of 5 stories. At the time of the sale, Doctors Hospital leased the entire first floor of the building for their same day surgery center, breast care center, auditorium and other services. The building features a staffed information desk, valet parking and an attached parking garage. Other tenants include orthopedic, cardiac, pain management, plastic surgery and other independent medical practices.
Doctors Hospital of Sarasota, which is owned by publically traded Hospital Corporation of America, is a 155-bed acute and general care facility serving Sarasota and Manatee counties. The Emergency Room is open 24-hours a day, 7-days a week by board certified emergency physicians. The MOB is attached to the hospital by an enclosed walkway and will likely provide the hospital an opportunity to expand the services it provides to the community.
CNK Realty originally worked with the owner and Duane Henderson of Wagner Realty represented another investment company who executed a contract to acquire the property. Since the land was under a ground lease to the owner, Sarasota Doctors Hospital maintained a right of first refusal to purchase the property, which they exercised.
There is significant demand from investors in medical office properties along the West Coast of Florida and throughout the state, as these properties tend to be relatively stable with long term tenants. Recently CNK Realty closed the Manatee Surgical Center in Downtown Bradenton this past July for just under $5.5 Million. It was purchased by a healthcare real estate investment group out of Dallas, Texas.
CNK Realty is a full service provider of healthcare real estate solutions which focuses on working with physicians, hospital systems, multi-specialty groups, ACO's and investors in medical real estate throughout the West Coast of Florida. CNK Realty is directed by Ken Hughes who has worked with publically owned hospital systems, large specialty practices and individual practitioners and is well versed on the specific needs of medical office space users and investors.