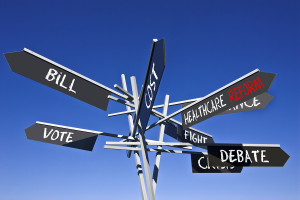 In its simplest form, Stark Laws and the Anti-Kickback Statute prohibit physicians from referring patients to other physicians or hospitals and receiving referral fees. Referral fees are not restricted to cash paid to the physician, but also discounts on products, services and rent or opportunities to invest. A common discount which is often not fully understood is a discount on rent between physicians and hospital systems or between physicians themselves.
It is commonplace for hospitals to own medical office buildings which they lease space to physicians. This is certainly acceptable so long as several factors are met with that lease:
Lease must be written, executed by both parties and specifies the space being leased.
Term must be for at least one year.
Space which is leased must be reasonable and necessary for the business purpose.
The rental rate charged to the tenant is considered Fair Market Value and is set in advance.
Holdover on a month to month basis allowed for up to six months under the same terms and conditions of the lease.
The lease agreement is commercially reasonable even if there were no referrals between the parties.
Violation of Stark Law does not have to be proven that there is criminal intent and can carry fines of up to $15,000/claim, and $100,000 for each noncompliant agreement. It can be easy to fall under violation of Stark Law and the Anti-Kickback Statute, simply by the following example:
Physician A owns a building and occupies half of the space, the other he leases out to Physician B who is a primary care physician which is new to the market. In the hopes of generating business for his practice, Physician A leases the space to Physician B for less than what the market rate would be for similar space and even provides him with a build out allowance that is more than what standard medical build out would be even if he had charged a fair Market Value. Physician B opens his door for business and starts referring patients to his landlord out of convenience. Both parties are now in violation, even though there was no criminal intent, particularly on the part of Physician B.
This type of scenario is particularly monitored where hospitals are leasing space to physicians. Even in a sublease situation between one physician who may not utilize all of his space and decides to lease a couple of exam rooms out to another physician.
Other simple and often overlooked violations can come in the form of:
Forgetting to implement annual increases stated in the lease.
Forgetting to timely renew an expired lease.
Allowing tenants to occupy space which is not included in the lease.
Not enforcing the billing and collection of operating expenses.
Providing services (i.e. utilities, waste removal, cable) which are not detailed in the lease and allocated equally among all tenants.
In short, if you are a physician leasing space from a hospital or another physician, always have your lease document prepared and reviewed, ideally by a certified healthcare attorney. Using your longtime friend, who may even be a real estate attorney, may cost you in the long run if he or she is not completely familiar with Stark Laws. If you are a physician who owns space and leases to other physicians, the same goes true and you should also have a Fair Market Value study performed on your building, ideally every two years.
About CNK Realty:
CNK Realty is a full service provider of healthcare real estate solutions. We work with physicians, hospital systems, multi-specialty groups, ACO's and investors in medical real estate throughout the West Coast of Florida. Our primary lines of service are to healthcare providers looking to lease or purchase medical office space in Sarasota, Bradenton, Lakewood Ranch, Venice and surrounding areas, as well as professionally representing the leasing of medical office buildings. Additionally, CNK Realty offers professional property management services in Sarasota, Bradenton and Venice.
If you are a physician, hospital, medical group or investor involved in healthcare real estate and are looking to for a professional medical office broker to assist you in your lease, acquisition, sale or management of your property, please contact us at (941) 741-9600 or visit us at www.cnkrealty.com to discuss your medical office needs.